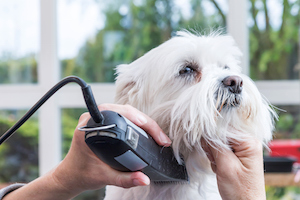 Clearwater Animal Hospital is proud to provide pet grooming to Windsor and surrounding communities. We take great pride in providing complete pet care services, including pet grooming. Grooming is so important to your pet's overall health as it gives our team the opportunity to examine your pet from nose to tail, often identifying skin or hair coat issues. In addition, pet grooming is designed to make your pet look, feel, and smell their very best!
Pet Grooming Services We Offer
At our animal hospital, we provide complete grooming services for our patients. When your pet is in need of grooming, you can choose from some of the following exceptional pet grooming services:
Bathing
Blow dries
Breed cuts
Brushing
Ear cleaning
Expression of anal glands
…and more!
If you have questions about the grooming services or wonder if we can provide the specific grooming needs that your pet has, please ask us! We can discuss your concerns with you and ensure that your pet's grooming needs are met.
What You Need to Know About Pet Grooming
At our animal hospital, we have a few requirements for our grooming guests to ensure that they and our other guests are safe at all times.
All pets are required to be up-to-date on vaccines in order to protect them from potential diseases and to protect our other guests and animal hospital patients
It is recommended that pets be on a routine heartworm, flea, and tick prevention during their stay; all pets that are not currently on any prevention will be administered a flea treatment prior to their discharge
We will need copies of all of your pet's records if they are not a patient of record at our animal hospital
Schedule Your Pet's Grooming Visit with Us
If your best friend is in need of a pet grooming service, please contact our team. We can discuss your pet's specific needs with you. Please remember that we often book up very quickly during holiday seasons, so be sure to book your pet's grooming visit as early as possible!